Monthly Archives: March 2013
The outlook is not good for much improvement to our drought at least through June 30th. Click on image below to view full-​​size.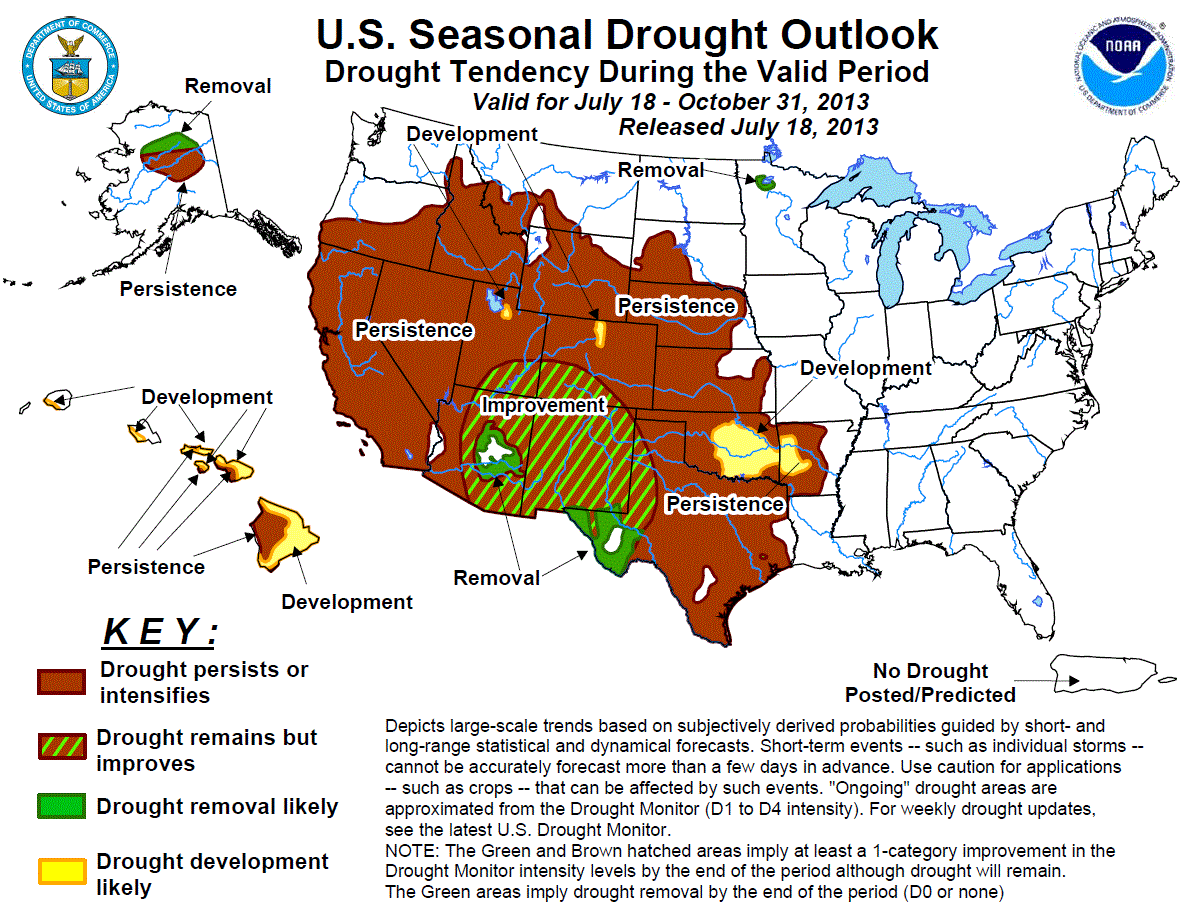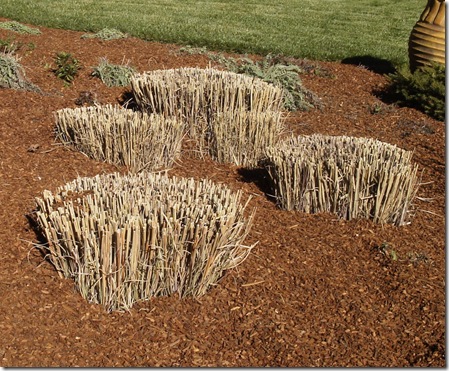 March is the perfect time to do some important maintenance to your clumps of ornamental grasses.  Because these grasses are about to start growing again, it is a good practice to prune each clump down to a height of 10" so that the new growth is not interspersed with the dead brown grass blades from last season.
A fast, easy way to cut the ornamental grass is with a small pruning saw or a weed whacker. Use the cut grass as a mulch on your perennial bed or add to the compost pile.
Now is the perfect time of year to turn your sunny window into a seedling factory. Start with either new small pots or recycled pots that have been cleaned with soap and hot water. Also use brand new potting soil for seeds to prevent disease.
Plant seeds twice as deep as the seeds are wide and maintain moisture until you see germination. Allow for one plant per 1 – 2 square inches. You may need to move them to a larger pot if seedlings start to shade each other.
If your seedlings are stretching or leaning towards the light, then you should be increasing the light by moving the plants to a sunnier spot or placing the plants within a couple of inches of a regular cool white fluorescent light (no need for a grow light for seedlings).
By growing your own seedlings you can save a lot of money over purchasing plants later in spring. Also, you can select to grow seeds from a larger diversity of choices (i.e. early tomatoes, unusual varieties or heirlooms).
In 1876, there were 5,000 people and 12 trees in Cheyenne, WY. Early settlers quickly learned it was challenging to get plants to thrive in one of the harshest growing environments in the country. They struggled with the arid climate, alkaline soils, hail and constant wind.
Now Cheyenne can grow trees, but it isn't easy and you need to know what to plant. Don't miss the lecture on Tenacious Trees with expert arboricultureist, Scott Skogerboe.
When: This Saturday! March 16, 1:00 PM
Where: Laramie County Library Cottonwood Room
Price: $15.00 ea.
Purchase tickets online at www​.brownpapertickets​.com, type in "Gardening with Altitude," or purchase at the Cheyenne Botanic Gardens (cash or check only)
NOTE: Lecture Room has limited seating. Advanced tickets are recommended as tickets at the door may sell out.
Sponsored by the
Laramie County Master Gardeners and
the Cheyenne Botanic Gardens
The snowdrop flower that comes from a small bulb is always the first flower to bloom in High Plains gardens (usually you see the first flower in mid-​​February through early March). While it is quite small, looking like three drops of milk hanging from a stem, it does wonders for the spirit when it blooms in the snow. It's Latin name is appropriately "Galanthus" which means "milk-​​white flowers."
These are not common bulbs to find but most good garden centers will carry snowdrops.  They are also available via mail order. They are available in the Fall and should be planted prior to winter setting in. Make a note on your calendar now for to purchase them in late September. They bloom best and earliest in a sunny location.
The next flower to bloom in Cheyenne will be the early dwarf Iris reticulata (blue) and Iris danfordiae (yellow).